Anthophyllite Asbestos
Anthophyllite Amphibole Asbestos
Anthophyllite is an amphibole mineral with the chemical formula: (Mg, Fe)7Si8O22(OH)2 — magnesium iron inosilicate hydroxide. Certain forms of anthophyllite are lamellar (forming layers) or fibrous and are used as asbestos. The name is derived from the Latin word anthophyllum, meaning clove, since that is the most common color of the mineral.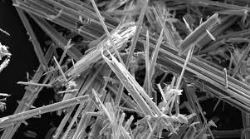 Anthophylite is the product of metamorphism of magnesium-rich rocks. Anthophyllite also occurs as a metamorphic mineral derived from rocks found with serpentine.
Anthophyllite in the United States
In the United States it occurs in Pennsylvania, southwestern New Hampshire, central Massachusetts, Franklin, North Carolina, and in the Gravelly Range and Tobacco Root Mountains of southwest Montana.
The Paul Law Firm has an outstanding track record of success, and our lawyers are known for their honesty, integrity and compassion. If you or a loved one has been diagnosed with Mesothelioma or any asbestos related disease from asbestos exposure we can help you file a Mesothelioma lawsuit. We also handle car injury cases, wrongful death cases, product defect cases, premises liability cases, and work related injury cases. Our experienced legal team is here to help you get just financial compensation for your injuries.
More than 25 years of experience in Mesothelioma and Asbestos litigation.
More than 1 billion dollars in settlements.
Over 500 of our clients have recovered in excess of 1 million dollars.
More Information About Anthophyllite Asbestos