Asbestos Risks
Asbestos Has Risks Because..
Asbestos is toxic and carcinogenic. Medical science has not established any minimum level of exposure to asbestos fibers which is considered to be safe. Exposure to asbestos fibers can cause debilitating and deadly diseases. The most common diseases caused by asbestos exposure are mesothelioma cancers, lung cancer, and asbestosis.
Among those at greatest risk for developing asbestos-related diseases are people whose jobs caused them to come into contact with asbestos fibers on a daily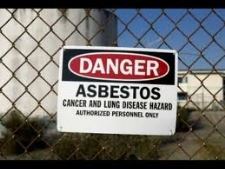 basis, including for example, men and women who worked in the construction, shipbuilding, and automobile industries. Family members of people who worked in such at-risk industries or occupations are also at risk for developing an asbestos-related disease. This is because asbestos particles can cling to one's clothing and hair follicles and inadvertently taken into one's home where they can be transferred to loved ones. This is called "para-occupational exposure."
Living With Asbestos
People who live near asbestos mines, manufacturing facilities, or construction sites that use asbestos are also at risk for developing an asbestos-related disease. These types of facilities and sites can release asbestos fibers that contaminate residential neighborhoods and put entire communities at risk. This type of exposure is referred to as "environmental exposure."
The Paul Law Firm has an outstanding track record of success, and our lawyers are known for their honesty, integrity and compassion. If you or a loved one has been diagnosed with Mesothelioma or any asbestos related disease from asbestos exposure we can help you file a Mesothelioma lawsuit. We also handle car injury cases, wrongful death cases, product defect cases, premises liability cases, and work related injury cases. Our experienced legal team is here to help you get just financial compensation for your injuries.
More than 25 years of experience in Mesothelioma and Asbestos litigation.
More than 2 billion dollars in settlements.
Over 500 of our clients have recovered in excess of 1 million dollars.
Call us today at 800.281.9804 for a free and confidential consultation with an experienced Mesothelioma Lawyer.
"They supported our wish to proceed with legal claims against companies who caused my husband's illness and worked very quickly to secure several settlements for us."

- Daniel J.

"There will never be a Hollywood movie about him, but the next time you see a superhero movie or comic think about Jerry Our Super Hero."

- The Retirees Pipeline

"Their fame for fairness has spread so that they are now the main law firm used by all of the U.A. Locals in the entire state of California."

- Vern Gosney