Environmental Lung Diseases
Harmful Inhaled Particles
Particles that are inhaled causes environmental lung diseases including harmful gases, mists, particles or vapors that are inhaled. This typically happens in the workplace but can also happen in the home. The term pneumoconiosis is often used if the lung disease is due to inhaled particles rather than gases or vapors. The size and properties of inhaled particles will affect the location it ends up in the body and what type of disease it causes. Large particles may get trapped in the nose or large airways, but very small ones may reach the lungs (alveolar region). There, some particles dissolve and may be absorbed into the bloodstream.
The body has several clearance mechanisms to remove inhaled particles. In the airways, an accumulation of secretions (mucus) coats particles so that they can be coughed up more easily. Additionally, tiny cells lining the airways (cilia) are able to sweep inhaled particles upward and eventually out of the lungs. In the small air sacs of the lungs (alveoli), special scavenger cells (macrophages) engulf most particles and render them harmless. Asbestos fibers, however, often are too long and skinny for macrophages to surround and therefore cannot be made harmless. Even when harmful particles are engulfed, a harmful inflammatory process may result.
Many different kinds of particles can harm the lungs. Some are organic, meaning that they are made of materials that contain carbon and are part of living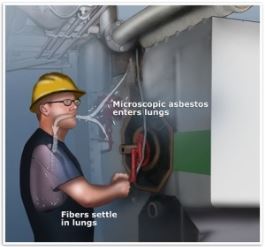 organisms (such as grain dusts, cotton dust, or animal dander). Some are inorganic, meaning that they usually come from nonliving sources, such as metals or minerals (such as asbestos).
Types of Particles
Different types of particles produce different reactions in the body. Some particles—animal dander, for example—can cause allergic reactions, such as hay fever–like symptoms or a type of asthma. Other particles cause harm not by triggering allergic reactions but by being toxic to the cells of the airways and air sacs in the lung. Some particles, such as quartz dust and asbestos, may cause chronic irritation that can lead to scarring of lung tissue (pulmonary fibrosis). Certain toxic minerals like asbestos can cause lung cancer or cancer of the lining of the chest and lung (mesothelioma).
Who Is at Risk of Particles Environmental Lung Diseases?
Asbestosis or Mesothelioma: Anyone working with asbestos (insulators, construction workers, manufacturing employees) or otherwise exposed to asbestos fibers
Benign Pneumoconiosis: Barium workers; Iron miners; Tin workers; Welders
Beryllium Disease: Aerospace workers; Metallurgical (castings) workers
Bronchiolitis obliterans: Flavorings workers (popcorn workers' lung)
Byssinosis: Cotton, hemp, jute, and flax workers
Coal Workers' Pneumoconiosis: Coal workers
Hypersensitivity Pneumonitis: Office workers (because of air-conditioning systems contaminated by certain fungi and bacteria); Swimming pool and spa workers (because of contaminated sprays); Farmers; Mushroom workers; Bird Keepers; People exposed to isocyanates (urethanes)
Occupational Asthma:People who work with grains, western red cedar wood, castor beans, isocyanates (urethanes), dyes, antibiotics, epoxy resins, tea, and enzymes used in manufacturing detergent, malt, leather goods, latex, jewelry, abrasives and paints used in automobile body repairs, animals, shellfish, irritating gases, vapors, and mists
Silicosis: Certain coal miners (for example, roof bolters who work at the face of a mining operation); Foundry workers; Lead, copper, silver, and gold miners; Potters; Sandblasters; Sandstone or Granite cutters; Tombstone makers; Tunnel workers; Workers who make abrasive soaps
Silo filler's disease: Farmers
The Paul Law Firm has an outstanding track record of success, and our lawyers are known for their honesty, integrity and compassion. If you or a loved one has been diagnosed with Mesothelioma or any asbestos related disease from asbestos exposure we can help you file a Mesothelioma lawsuit. We also handle car injury cases, wrongful death cases, product defect cases, premises liability cases, and work related injury cases. Our experienced legal team is here to help you get just financial compensation for your injuries.
More than 31 years of experience in Mesothelioma and Asbestos litigation.
More than 2 billion dollars in settlements.
Over 500 of our clients have recovered in excess of 1 million dollars.
Call us today at 800.281.9804 for a free and confidential consultation with an experienced Mesothelioma Lawyer.
Related articles