Mesothelioma Clinical Trials
Clinical trials are research studies designed to find improved ways to prevent, diagnose, and/or treat mesothelioma. Most clinical trials occur in phases. Generally, a Phase I trial establishes the method for administering a new drug or regimen. During a Phase II trial, the safety and efficacy of this approach are examined. Phase III trials compare the new drug or regimen to a currently standard approach. Should the new treatment be approved, a final phase may occur to examine potential side effects and risks over a longer period of time.
Clinical trials related to mesothelioma
Mesothelioma clinical trials are being conducted throughout the world, examining new drugs, radiation techniques, or combined modalities. Some of the drugs being studied include Veglin, Avastin, Pemetrexed (Alimta), Cisplatin, Glivec, Gemzar, Bortezomib, Milataxel, Everolimus, Axitinib, Velcade, Dasatinib, Sunitinib Malate and Capecitabine. Relatively new radiation approaches include Intensity Modulated Radiation Therapy and Helical Tomotherapy Treatment. Gene therapy and vaccine therapy also are being examined.
For further information, please go to Mesothelioma Research Foundation of America to find: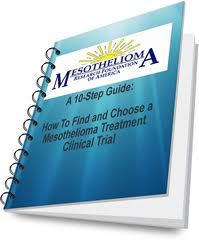 How to Find and Choose a Mesothelioma Treatment Clinical Trial: a 10-Step Guide
The National Cancer Institute also maintains a Clinical Trials Registry.
Mesothelioma Clinical Trials Related Resources
Phase III Study of Cisplatin With or Without Raltitrexed
Phase III Study of Pemetrexed in Combination With Cisplatin
Veglin Clinical Trials
The Paul Law Firm has an outstanding track record of success, and our lawyers are known for their honesty, integrity and compassion. If you or a loved one has been diagnosed with Mesothelioma or any asbestos related disease from asbestos exposure we can help you file a Mesothelioma lawsuit. We also handle car injury cases, wrongful death cases, product defect cases, premises liability cases, and work related injury cases. Our experienced legal team is here to help you get just financial compensation for your injuries.
More than 25 years of experience in Mesothelioma and Asbestos litigation.
More than 2 billion dollars in settlements.
Over 500 of our clients have recovered in excess of 1 million dollars.
Call us today at 800.281.9804 for a free and confidential consultation.