Chrysotile Asbestos
Chrysotile is an asbestiform sub-group within the serpentine group of minerals. There are three known species of chrysotile: clinochrysotile, orthochrysotile and parachrysotile. The chemical formulae for the three are the same: Mg3(Si2O5)(OH)4. Chrysotilevaries in color from gray-white to golden yellow to green. It has a hardness of 2.5 – 3 on the Mohs Hardness Scale which makes it a relatively soft mineral. The three varieties form the fibrous members of the serpentine group and have been extensively mined as asbestos.
Chrysotile common asbestos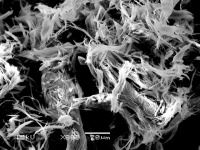 This is the most common form of asbestos used commercially. The asbestos industry has been loathe to stop selling chrysotile, going so far as to argue that chrysotile is not harmless. Of course, government and scientific agencies disagree, finding that all asbestos fibers can cause asbestosis, lung cancer and mesothelioma.
Chrysotile Kills
Play the video below and see the slide presentation identifying the position of government and scientific agencies.
Mesothelioma Related Resources
Chrysotile Asbestos is the Main Cause of Pleural Mesothelioma
9 Questions and Answers on Chrysotile and Health
More information about common asbestos