Asbestosis Overview
Asbestosis is best explained as a scarring or "fibrosis" of the lungs. When asbestos fibers are inhaled into the lungs, they remain embedded in the lung tissue and cause chronic irritation and inflammation. Over time, this inflammation causes scar tissue to develop. As scar tissue builds up, it replaces healthy lung tissue. Scar tissue is inflexible and cannot contract and expand which leads to impairment in lung function. It is at this point that symptoms of asbestosis begin to appear. The severity of asbestosis depends both on the length of time since onset of asbestos exposure and on the intensity of exposure.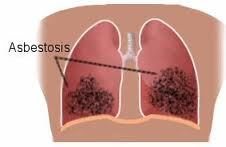 Asbestosis is incurable
The American Thoracic Society (ATS) has identified a number of diagnostic criteria for nonmalignant asbestos diseases, including asbestosis. These criteria involve conducting a proper physical examination, as well as obtaining an accurate occupational and environmental history.
ATS notes that while asbestosis commonly develops after prolonged exposures of 10 to 20 years, it also can occur with "short, intense exposures to asbestos, lasting from several months to 1 year or more."
Physical evidence of asbestosis may include crackles/rales, finger clubbing, cyanosis, chest radiological findings (e.g., pleural plaques, honeycombing), pulmonary function test findings (e.g., restrictive impairment), and pathological findings.
The Paul Law Firm has an outstanding track record of success, and our lawyers are known for their honesty, integrity and compassion. If you or a loved one has been diagnosed with Mesothelioma or any asbestos related disease from asbestos exposure we can help you file a Mesothelioma lawsuit. We also handle car injury cases, wrongful death cases, product defect cases, premises liability cases, and work related injury cases. Our experienced legal team is here to help you get just financial compensation for your injuries.
More than 25 years of experience in Mesothelioma and Asbestosis litigation.
More than 2 billion dollars in settlements.
Over 500 of our clients have recovered in excess of 1 million dollars.
Call us today at 800.281.9804 for a free and confidential consultation with an experienced Mesothelioma Lawyer.
"They supported our wish to proceed with legal claims against companies who caused my husband's illness and worked very quickly to secure several settlements for us."

- Daniel J.

"There will never be a Hollywood movie about him, but the next time you see a superhero movie or comic think about Jerry Our Super Hero."

- The Retirees Pipeline

"Their fame for fairness has spread so that they are now the main law firm used by all of the U.A. Locals in the entire state of California."

- Vern Gosney