Mesothelioma Cancer Diagnosis
Mesothelioma Diagnosis in Early Stages of Development
Mesothelioma diagnosis at early stages of cancer development are important. If you are worried that you have mesothelioma, you should immediately contact your doctor. Malignant mesothelioma may not become apparent until twenty, thirty or even fifty years after the first exposure to asbestos, but it can be very aggressive once it takes hold. Because the symptoms of mesothelioma are not unique to the disease, a mesothelioma diagnosis can be difficult to determine and therefore may take a while; another good reason to go in to see your doctor early.
To determine whether a person has mesothelioma, doctors may use one or more of these mesothelioma diagnosis methods:
Chest X-ray or CAT Scan (CT or Computerized Tomography)
MRI (Magnetic Resonance Imaging)
PET scan (Positron Emission Tomography)
PFT (Pulmonary Function Test)
Transbronchial biopsy (a flexible, lighted scope is passed down the trachea to the bronchi area of the lungs)
Thoracotomy (surgical incision into chest)
Thoracoscopy (surgical incision into chest with examination by small fiber optics camera)
Centesis (draining and evaluation of pleural, peritoneal, or pericardial fluid)
Mesothelioma Diagnosis is Often Misdiagnosed
Because mesothelioma symptoms are not unique and the disease is relatively rare, cases of mesothelioma are often misdiagnosed. A review of the patient's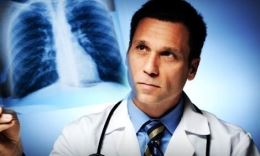 medical and work history is an important part of assessing the risk of mesothelioma. If you or a loved one was exposed to asbestos, you are at risk for mesothelioma and it is important to share your work experience with your doctor. Asbestos fibers can also be carried into the home on clothing, inadvertently exposing family members to the deadly fibers and the risk of mesothelioma. Mesothelioma diagnosis is serious, but treatments are available. The chance of recovery, or prognosis, depends on the size of the cancer, where the cancer is, how far the cancer has spread, how the cancer cells look under the microscope, how the cancer responds to treatment, and the patient's age.
New Ways for Mesothelioma Diagnosis
Doctors are studying new ways for mesothelioma diagnosis which is often difficult-to-diagnose disease. Diagnostic trials exist to assist in this endeavor. One example of a diagnostic trial involves using multiple biomarkers for diagnosing pleural effusions. Other examples of recent trails include:
Study of F-Fluorodeoxyglucose (FluGlucoScan) in Patients With Known or Suspected Cancers of Low Incidence
Prospective Study of Epigenetic Alterations in Patients With Non-Small Cell Lung Cancer, Esophageal Cancer, or Malignant Pleural Mesothelioma
Vibration Response Imaging (VRI) in Lung Cancer Patients
The Use of Breathing Synchronized CT and PET Scans in Radiation Therapy Treatment Planning
Improving Functional Outcomes in Patients With Unilateral Vocal Cord Paralysis: Assessment of Adaptation Using Functional Magnetic Resonance Imaging
Mesothelioma Diagnosis and Cure Research
Mesothelioma Research Foundation of America is working on treatments to cure a Mesothelioma Diagnosis.
For further information on diagnostic trials, visit the National Cancer Institute.
The Paul Law Firm has an outstanding track record of success, and our lawyers are known for their honesty, integrity and compassion. If you or a loved one has been diagnosed with Mesothelioma or any asbestos related disease from asbestos exposure we can help you file a Mesothelioma lawsuit. We also handle car injury cases, wrongful death cases, product defect cases, premises liability cases, and work related injury cases. Our experienced legal team is here to help you get just financial compensation for your injuries.* More than 25 years of experience in Mesothelioma and Asbestos litigation.
More than 2 billion dollars in settlements.
Over 500 of our clients have recovered in excess of 1 million dollars.
Call us today at 800.281.9804 for a free and confidential consultation.