Tremolite Asbestos
Tremolite is a member of the amphibole mineral group. It forms by metamorphism of sediments rich in dolomite and quartz. Pure magnesium tremolite is creamy white, but the color grades to dark green with increasing iron content. It has a hardness on the Mohs scale of five to six, which puts it in the middle compared to other minerals.
Tremolite Vermiculite Products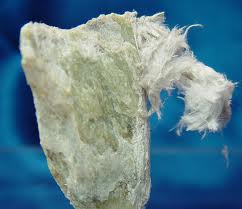 Tremolite asbestos is a fibrous form of the mineral, which can be found in some vermiculite products. Historically, most vermiculite used throughout the world came from a mine near Libby, Montana. As the mine was contaminated with tremolite asbestos, products using Libby vermiculite also are asbestos-containing. Libby vermiculite was used in attic insulation, agricultural fertilizers, and potting soil mixes. It also was used in the manufacture of certain construction products.
Tremolite asbestos can be found in some talc deposits. Some of the talc products reported to have contained asbestos over the years include:
products used as lubricant to prevent ungalvanized rubber goods from sticking
some metal casting plasters, joint compounds, paints, and linoleums
some products used as a processing element of molded rubber products such as gaskets, sealants, and tires
More Information About Tremolite Asbestos
Related articles